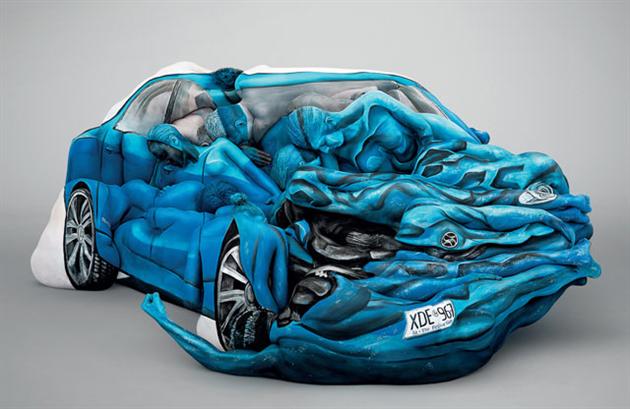 This week's
Rewind
summary article of videos features a wide range of subjects. Leading things off is some behind-the-scenes footage of body artist Emma Hack's depiction of a car crash with the help of painted human bodies  (via 
Juxtapoz
). The project was commissioned by the Motor Accident Commission road safety campaign in Australia and involved 17 people. Other worthy videos include:
Wheatpaste.Doc - a Brazilian documentary about wheat paste.
Pharrell Williams Interviews David Salle & KAWS.
An interview with Sarah Joncas about her show at Last Rites Gallery.
Some footage of ABOVE's murals in Miami.
The recent work of EIME (via Wooster Collective).
Steve "ESPO" Powers - studio gangster.
A look at APEX as he prepared works for his solo show REFLECTED at 941 Geary.
Cranio - Lost in London (via Hooked Blog).
D*Face's Equisite Corpse in action.
Absolut Art-Stream - Yué Wu presents The Circle of Life (via Slamxhype).
VernissageTV visits Art Basel.
El Mac for Style Jam (7th) 2012 hosted by The Saigon Project (via 12OzProphet).
Spending time with Hanksy (via Vandalog).
The Faith47 Rhapsody mural for Wall Therapy in Rochester, NY.
SheOne - Vapor Trail (via Graffuturism).
http://www.youtube.com/watch?feature=player_embedded&v=BYKVS_PHZvA http://www.youtube.com/watch?v=LPKR2JSsFXM http://www.youtube.com/watch?v=ynZmqEJ9JLU http://www.youtube.com/watch?v=CBPXN2OkULQ http://vimeo.com/54818014 http://vimeo.com/56432693 http://vimeo.com/55971773 http://vimeo.com/55108370 http://vimeo.com/55513321 http://www.youtube.com/watch?feature=player_embedded&v=z9KdGDMZPt8 http://vimeo.com/54941300 http://www.youtube.com/watch?feature=player_embedded&v=CDAuMw1-_nw http://www.youtube.com/watch?feature=player_embedded&v=1UhpUBzGOLk http://www.youtube.com/watch?feature=player_embedded&v=s-FX0U8GZiI http://vimeo.com/54143842 http://vimeo.com/52161497